Jellyfish Sting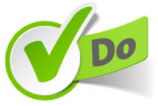 Remove
Remove any pieces of jellyfish that might be stuck in your skin by rinsing the wounds with seawater.
Vinegar or baking soda
Rinse the wounded area with vinegar or apply baking soda paste.
Shower
Take a hot shower or apply ice packs.
Medications
Take some pain relievers and calamine lotion or lidocaine to help relieve any itching or discomfort.
Rub
Don't rub the area with towel or spread sand on the wound.
Fresh water
Don't rinse the wound with fresh water.
Urine
Don't apply human urine.
Solvents
Don't rinse with solvents (such as formalin, thanol or gasoline)
Bandages
Don't cover it with many bandages.
References:
"Jellyfish Sting." Diseases and Conditions. N.p., Sept. 2015. Web. Aug. 2016.